History Day in Delaware Contest

: put cursor on Special Events tab above and click on the underlying tab
Upcoming or Recent Special Events for The Friends of the John Dickinson Mansion 
Upcoming Board Meeting:  Jan 10 @ 10:00am
Future Board Meetings:  Apr 18, Jun 13 @ 10:00am      
Our June 2022 Annual Meeting Minutes:      Click Here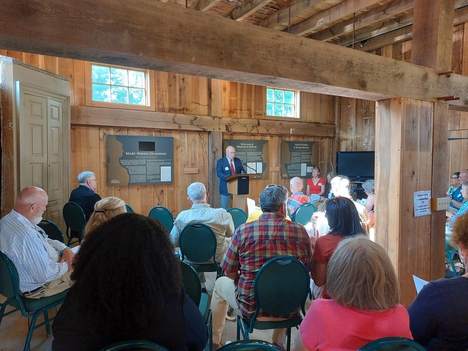 Our June  2021 Annual Meeting (Zoom)    Click Here to Watch
Annual Events for members of The Friends of the John Dickinson Mansion include:
A Holiday Gathering at the Mansion in December
A Wreath Laying at John Dickinson's gravesite in Wilmington in February
An Annual Meeting and Dinner in June
Board Meetings for board members of The Friends are held quarterly (September, November, February, April)
For updated Special Events open to the public with times and dates, 

Click Here
OR go to the State of Delaware Division of Historical and Cultural Affairs.
Ongoing Activities at the Mansion include:
Plantation Tours are arranged through the  State of Delaware  :
Tours of the plantation utilize a technique known as character interpretation in which trained historic interpreters depict characters from John Dickinson's era. Character-interpreted tours enable visitors to compare and contrast lifestyles of the wealthy Dickinson family with those of tenants, poor whites, slaves, and free blacks residing in Kent County during the 1700s and early 1800s.
The following topics are available for group tours:
 
Politics and Plantation  (adults/students; 1 1/2 hours)  : Reviews the life of John Dickinson and the people (tenants, slaves, contractors, business associates, etc.) with whom he interacted in the Kent County area during the late 1700s.
The Plantation Stories Project is an ongoing research project listing of enslaved and free Black individuals associated with the John Dickinson Plantation.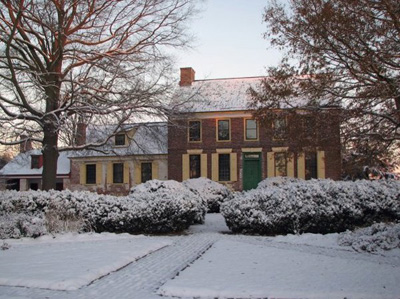 In the Best Manner  (adults/students grades 2-12; 2 hours)  : Compares and contrasts social differences in ownership of items and stylistic changes in architecture and decorative arts.
 
A World Apart  (adults/students grades 2-12; 2 hours)  : Synthesizes historical data about slaves and free Blacks residing in Jones Neck.
 
Then and Now  (Students grades K-3; 1 1/2 hours)  : Compares and contrasts historical information about the lifestyles of the Dickinson family, children, tenants, and slaves.
 
Dickinson Plantation Profiles  (Adults/students grades 4-12; 2 hours)  : Explains the use of primary and secondary resource materials to interpret the plantation's history.
 
A Sense of the Past  (adults/students grades K-2; 2 hours)  : Highlights the use of sensory skills to interpret the past.
School group tours complement Delaware's Social Studies Content Standards. A special thematic demonstration (weaving, hearth cooking, blacksmithing, etc.) can be scheduled to complement group tour themes.
Other Special Events:  
May
 The Dickinson Plantation participates in the Old Dover Days celebration on the first Saturday of every May.
October
  An 18th century trades day event every 2nd Saturday in October. 
December
 Every December the Plantation staff recreates an 18th century holiday celebration with the Decorative Dessert Table Display. (discontinued during COVID)