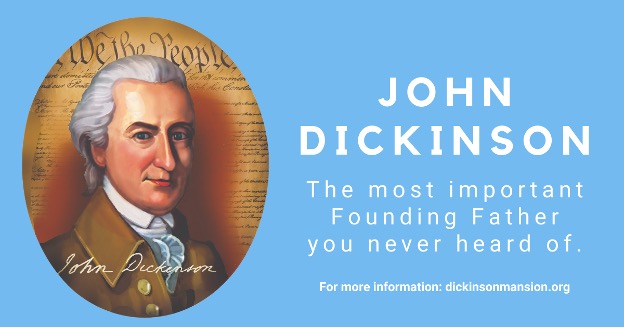 Attention: - Delaware Students, Parents, Guardians, and Teachers!
The Delaware Historical Society sponsors an annual History Day competition.
On a yearly basis The Friends of John Dickinson Mansion offers a $250 scholarship for the best student paper or project on the Delaware patriot's life, ideals, and achievements. 
The paper or project must be entered in the 2023 National History Day in Delaware contest. The 2023 theme is yet to be announced. The 2022 theme was "Debate & Diplomacy in History: Success, Failure, Consequences."  
Judging for the contest is held at Newark High School at the end of April. 
John Dickinson, known as the "Penman of the Revolution," played a crucial role in America's push for freedom from the Stamp Act in 1765 to the Constitutional Convention in 1787. He was an important advocate for liberty for all people. He fought for freedom for all, including the abolition of slavery (freeing his own slaves before the Constitution) and he fought for freedom of religion and freedom of the press. (Find out more about Dickinson at dickinsonmansion.org.)
Important Deadlines
April 1, 2023 (tentative) – Registration Closes for Papers and Websites
April 8, 2023 (tentative) – Registration Closes for Exhibits, Documentaries, and Performances

For more information about National History Day in Delaware: https://dehistory.org/learn/national-history-day